Navigating with the Flipped Classroom
Over the winter of 2017, a Coastal Navigation class was offered at Community Boating to adult learners in the classic methods of coastal navigation at sea, using traditional tools like a paper chart and compass. However, only two weekday evenings were allotted for this class, a challenging constraint for a subject that requires ample hands-on practice to gain proficiency. To remedy this, a flipped classroom model was developed, where lecture content and low-stakes quizzes were delivered online, so that classroom time could be 100% dedicated to hands-on practice. The resulting class was the first of its kind at our institution, a creative solution to the common problem of competing time, budget, and learner motivation constraints.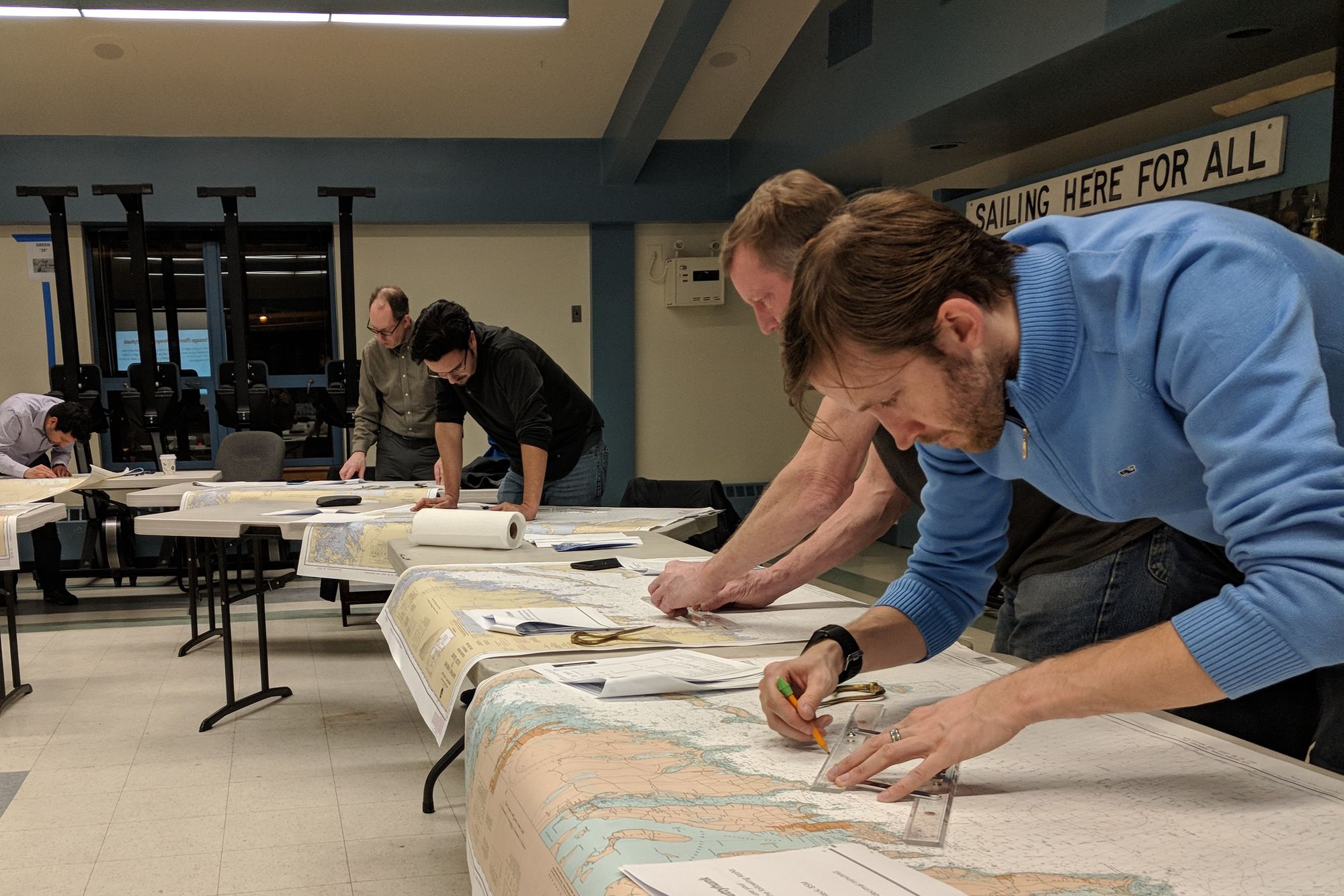 Importance
In it's eighty-plus year history, this is the first time Community Boating has used an entirely new class format to address the issue of limited time and resources. Because of this, everything needed to be created from scratch. By using a modern LMS, multimedia lecture material, and the hybrid or "flipped" lesson model, every second of classroom time was dedicated to hands-on practice. Additionally, instructor time and company resources were used more efficiently, saving in-person time for the most complex subjects. Lastly, the principles of multimedia learning and difficulty regulation which are grounded in modern andragogy were applied to this problem, resulting in a pleasant and meaningful experience for the learners that stayed within the constraints of the lesson.
Skills
Creative Problem Solving - To develop a class quickly which kept classroom time down, I had to abandon the industry standard drill-and-practice model and start from scratch. The solution included assessing my learners for their pre-existing knowledge in order to start them at the right pace, using an open-source LMS to keep the cost down, and moving the lecture material to an online format that students could do from home.
Systems Thinking - The Navigation class required me to consider the entire instructional system in play; this included organizational needs that pitted limited time and resources against the need to add value to the price of a membership at Community Boating. Thus, Coastal Nav was designed to deliver a meaningful experience to our students during the winter, when sailing wasn't taking place. Taking learner differences into account also informed the decision to use the hybrid format, so that students could master the basics on their own time. All of this was regulated by student feedback which looped back on the system to inform later design choices.
Facility with Online Andragogy - Designing for adults challenged me to create a class that was conscious of the learners' time, rich in multimedia, and structured to provide just the right amount of support to keep them challenged and learning at the same time. To this end, Mayer's principles of multimedia learning, dual-channel presentation, and self-regulated learning design aspects were incorporated which resulted in a multimodal media-rich lesson that progressed at a pace the learner controlled. Furthermore, classic techniques for difficulty regulation were used to not only keep learners motivated, but ensure that the content stayed well within their Zone of Proximal Development; one way this was accomplished was via frequent low stakes quizzing to provide "small wins" throughout the lesson and opportunities for feedback. Lastly, this effort was aided by a deliberate choice to boost the significance of the lesson by making connections to actual sailing scenarios that the student will likely encounter in New England if they haven't already.
Impact
This project solidified for me the potential that online learning has to enhance a range of learning experiences that I had previously thought faced intractable challenges. Such physical and hands-on endeavors such as sailing or chart-and-compass navigation can be enhanced with the pre-training and feedback offered by an LMS as simple as Moodle. Going forward, this has given me far greater confidence to seek out new solutions to age-old challenges, leveraging technology when appropriate.

Work Samples and selected pieces of the Coastal Navigation Class.
Sample of a lecture component delivered during the online part of the class:
https://photos.app.goo.gl/aomqy5h3xsaifYSU6
Sample of some quiz questions from the online component, note the targeted feedback given for incorrect responses: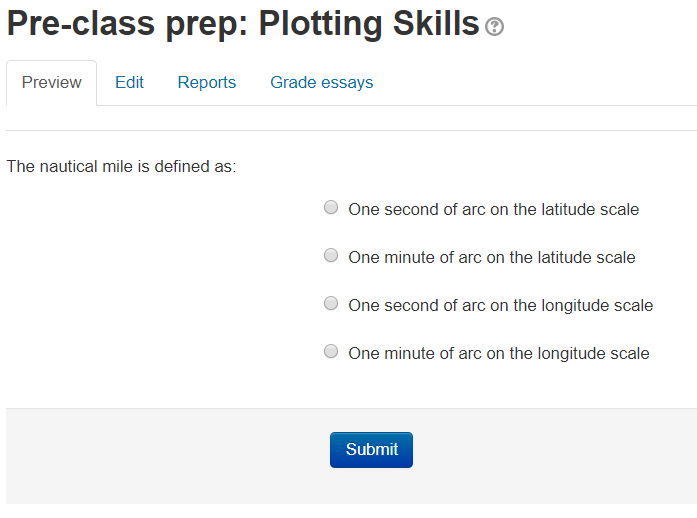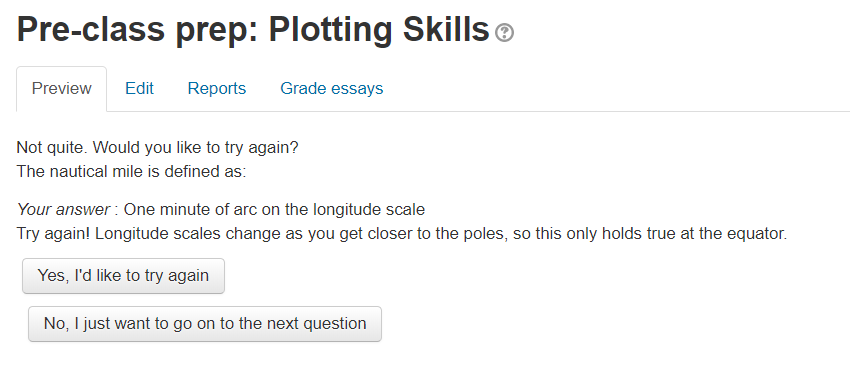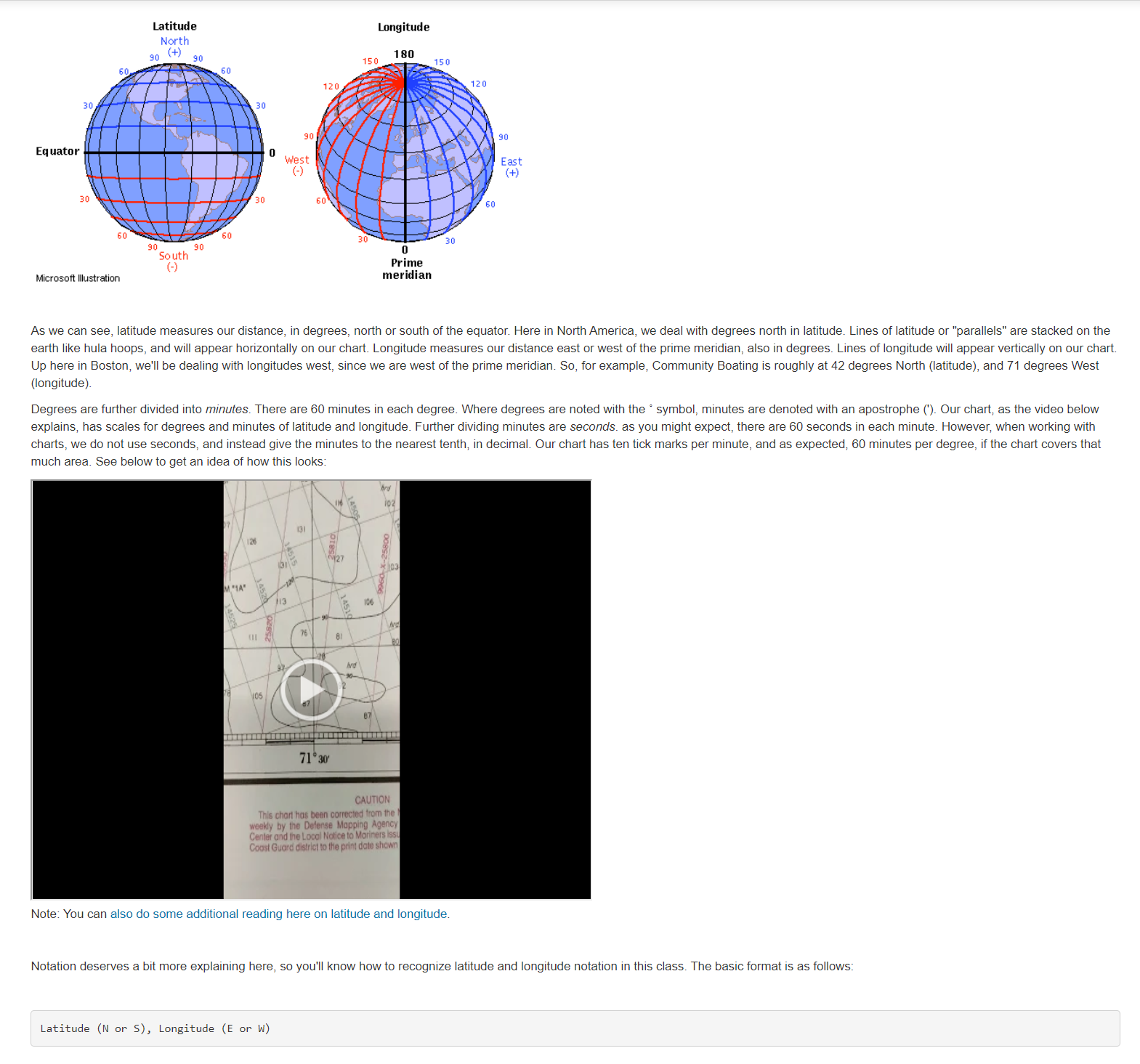 Image from a classroom activity on taking relative bearings with a handheld compass, which was preceded by a lecture component online: